Please Call For Orders Within 72 Hours Of Your Event 678-948-5867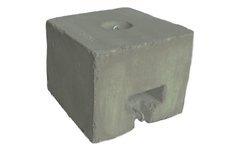 350lb Tent Weight block




$20.00

Closed for online booking. Call to reserve.

Tents setup on asphalt or concrete need to be secured with concrete block weights so that the tent remains stable during your event. Anchor straps are tethered to blocks around the tent perimeter. Blocks provide greater slip resistance compared to water barrels for greater safety.
Call 678-948-5867 to reserve weights for your tent.